12th March, 2016
"It is with great pleasure that I announce that this year's Royal Variety Performance will be held on Tuesday, 6th December 2016, at the Eventim Apollo Hammersmith. This iconic venue is a firm favourite with comedians and musicians alike and its increased capacity will no doubt provide a good year for the Royal Variety Charity. It will be 14 years since we last presented the Royal Command at the Hammersmith Apollo and following the venue's spectacular refurbishment in 2014, we are looking forward to working with ITV Studios to produce what will undoubtedly be a truly fantastic and memorable night of entertainment; in the presence of senior members of the Royal Family.
Our Aftershow Party and Banquet has now become such an integral part of the whole evening that we are also absolutely delighted to announce that, for the first time, we have secured the prestigious Ballroom and Great Room of the Grosvenor House hotel on Park Lane to enjoy and celebrate the evening after the show. All artists performing in the main show will be strongly encouraged to attend the banquet, and luxury coaches will be provided to all Aftershow ticket holders as complimentary transfer from the Show to the Aftershow (a 15-minute journey at that time of the evening). In addition, we have made available a limited number of discounted packages for buying both a Show and Aftershow ticket.
To be in with the best chance of obtaining tickets, please book through this secure online ticketing facility, which allows for various payment methods including VISA, MasterCard, American Express, PayPal and cheque. The Royal Variety Charity is the only supplier of Royal Variety Performance tickets and please note that tickets are strictly not for re-sale, nor are they transferable without our written permission. Good luck and thank you for your support!" Giles Cooper - Chairman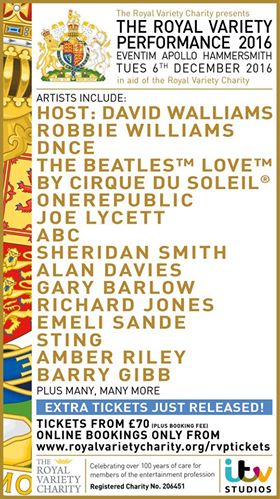 CLICK ON THE IMAGE BELOW TO BUY TICKETS!